A stylish fusion of classic Old World techniques with New World ideas
Vibrant fruit flavours, with refreshing acidity & creamy mouthfeel will leave you wanting more
A delicious collection that works perfectly with fresh, grilled or creamy seafood & chicken dishes
The Man O' War White Label Collection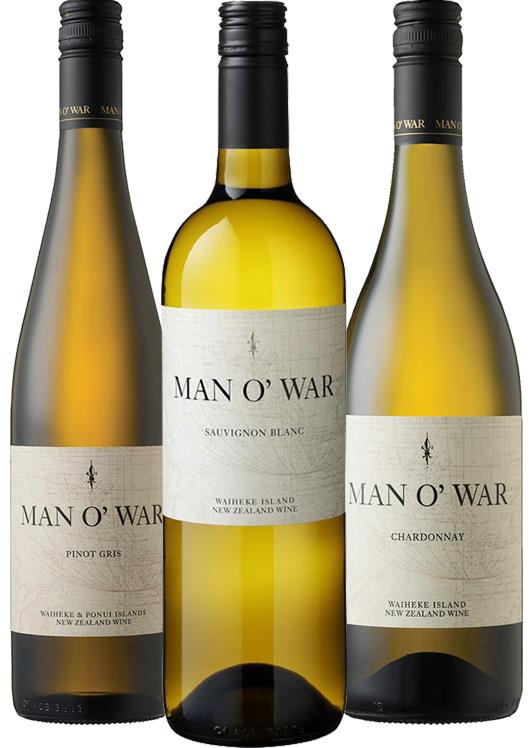 The Man O' War White Label Collection
This collection of Man O' War's Estate white wines is sure to delight the senses, with it's stylish fusion of classic Old World techniques with New World ideas.
Collections includes:
2 x Man O' War Estate Sauvignon Blanc 2019
The 2019 Sauvignon Blanc is incredibly aromatic with classical grassy green characters with tropical overtones and a clean dry persistent palate. Crisp and clean this is Man O' War's most successful vintage of Sauvignon blanc and is perfectly suited to the local Te Matuku Oysters which are farmed close to Man O' War, or similarly the abundant seafood that thrive in the surrounding coastal waters.
The 2019 Estate Sauvignon Blanc comes from low yielding vineyards located on the hilltops surrounded by massive basalt boulders, remnants of a long forgotten volcanic eruption... The sites are cool being tempered by elevation and cooling sea breezes and also unsurprisingly have a unique volcanic make up to their soils.
The 2019 vintage was one of the best seasons in the history of grape growing on Waiheke Island, warm settled weather made for a classic NZ summer and continued through to the harvest months.
Alc: 12.39%
2 x Man O' War Estate Waiheke Pinot Gris 2018
The 2018 Estate Pinot Gris is a delicious wine being relatively light in alcohol (10.5%) with aromas of tropical fruit and citrus and intense pear and spice characters on the palate. The palate is fresh and linear with the residual sugar balanced by the crisp acidity perfect for summer drinking or as an aperitif.
Man O' War Estate Pinot Gris is grown on a number of vineyards on both Ponui Island and Waiheke Island, all elevated hillside sides which are exposed to the cooling breezes coming off the Pacific ocean. The Pinot Gris is all hand harvested and is must pumped to the press for a long slow press cycle into tank and fined for clarity. The juice is then racked clear and fermented cool with selected Riesling yeasts until the right balance of sugar, acid and tannin is tasted and at that point the fermentation is stopped by chilling to below zero. The wine is then held in the cellar at cold temperature to retain as much natural carbon dioxide left over from the fermentation as possible to provide a light spritz in the wine.
Each small parcel of vines are carefully tended and harvested by hand, then vinified separately, fusing classic Old World techniques with innovative New World ideas. The winemaking team is provided with the broadest possible palette from which to blend world class wines that are unique expressions of Man O' War.
Alc: 10.5%
2 x Man O' War Estate Waiheke Island Chardonnay 2018
Man O' War Chardonnay exhibits intense ripe stone fruit characters with subtle hints of toasty French oak and a lovely nutty lees influence.
Vintage 2018 began with a settled and dry Spring resulting in great flowering and a corresponding excellent fruit set. The vineyard then enjoyed a relatively hot summer although there were intense periods of rainfall thanks to ex Tropical Cyclone Fehi and Gita which put the pressure on during harvest time.
Temperatures remained warm into the harvest months increasing humidity however with careful attention to detail in the vineyard they were rewarded with excellent fruit.
To minimise the risk of disease pressure they carried out an early pick of their Chardonnay from their elevated hilltop vineyards which gives a fresh crisp edge to the wine and from their richer clay based sites we picked a little later and riper to provide wonderful flesh and richness and ripe flavours into the tropical spectrum.
Drawing from their experience in making Chardonnay they have found that maceration of the whole bunches before pressing increases the amount of grape solids in the juice all of which they retain in the juice for fermentation in barrel with wild yeasts. When fermentation is finished they add small amounts of sulphur at each topping to preserve the freshness and fruitfulness of the wine. They do not stir the lees or allow the wine to go through malolactic fermentation.
Food Pairing: Beautiful with fine rich fish such as turbot, grilled veal chops with mushrooms, late summer vegetables such as red peppers, corn, butternut squash and pumpkin.
Alc: 13.5%
Vintages may change.
---
Welcome
to New Zealand's #1 online
wine community
Leave site