An exclusive collection for our corporate clients...
As winter approaches its time to stock up on the reds and this collection case offers a fabulous selction of 'everyday drinking' reds!
All of these wines are fabulous food wines, we recommend pairing with hearty winter favourites such as slow cooked lamb shanks or venison carpaccio
Exclusive New Release Red Wine Mixed Case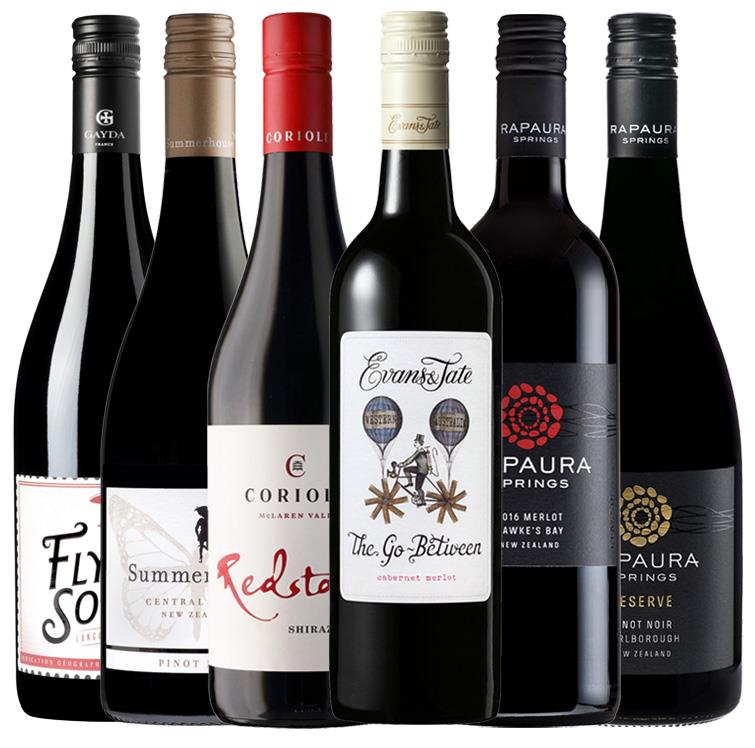 Exclusive New Release Red Wine Mixed Case
1 x Rapaura Springs Reserve Marlborough Pinot Noir 2017
Dark plum, black cherry and black olive tapenade with complexing mushroom and fresh sage combined with vanilla pod oak. The palate is rich in dark fruits, fresh strawberries and cassis. The tannins are poised and silky and finishes with notes of dried herbs and cedar.
Cooler temperatures during the 2017 growing season extended the ripening period and then delivered trademark Marlborough flavours. Fruit for the 2017 vintage came from a selection of premium vineyard sites throughout Marlborough. Upon arrival to the winery the fruit is cold soaked for 3-5 days and then plunged daily to extract the desired flavour, colour and tannins. Select parcels were then allowed to macerate, further extracting colour and flavours after fermentation, for a further two to five days. After gently pressing the liquid off skins, the wine underwent malolactic fermentation to soften the palate and was then aged with a combination of French and Hungarian Oak.
Alc: 13.5% - Seal: Screw Cap
1 x Summerhouse Central Otago Pinot Noir 2018
Underlying savoury oak notes complement the ripe dark cherry and plum aromas. The palate is full fresh dark fruits and spicy oak. Medium-bodied and softly textured, with mourish acidity.
This beautiful Central Otago Pinot Noir, like the whole Summerhouse range comes from a unique and inspiring vineyard site. Summerhouse's vinyards are hidden jewels, remote back breaking helping them to write the next chapter in New Zealand's wine story. These wines are a reflection of the variety, region and vineyard they are grown in, showing lovely fruit purity and concentration.
Alc: 13.5% - Seal: Screw Cap
1 x Evans & Tate 'The Go Between' Merlot 2014 (Australia)
It is dominated by ripe, juicy fruit enhanced by integrated oak and a supple, textural mouthfeel. Good value drinking.
Across all of their ranges, Evans & Tate wines capture the essence of the time and place they were created, offering a trusted and familiar styles that have been the anchor of their brans since their inception.
Alc % - Seal: Screw Cap
1 x Coriole Redstone Shiraz 2017 (Australia)
2017 Redstone shows vibrant mulberry, dark cherry, and sweet floral notes upfront and becomes very lifted and even more aromatic after some time in glass with red fruits showing through. The palate is bright and vibrant with some lovely fine tannin lending just the right amount of grip, displaying floral and red fruited notes, along with savoury, earthy characters. This wine is extraordiary value for money.
Redstone Shiraz is produced from three vineyards in McLaren Vale each contributing complexity to the final blend.
Alc: 14.5 % - Seal: Screw Cap
1 x Flying Solo Grenache Syrah 2016 (France)
Ramp up your French wine experience with this scrumptious offering. This red blend of Grenache Noir (60%) and Syrah (40%) offers an explosion of red fruits on the nose. This bouquet is followed by soft tannins, smooth and a fruity palate. A medium bodied wine the Flying Solo Grenache Syrah offers a fresh finish. Juicy, spicy and loaded with drinkability - grab some cheese, slice up some baguette, Flying Solo is waiting for you!
In the winery the grapes recieved traditional vinification for Grenache & short maceration at low temperature for Syrah.
Alc: 13.5 % - Seal: Screw Cap
1 x Rapaura Classic Hawkes Bay Merlot 2016
Bright vibrant red with purple hues in the glass. Dark plum fruits and red berry notes, compliemented with a hint of sweet spice and savoury notes. Medium bodied palate with rich and intense fruit. The tannins are long and silky and lingers with fruit spice.
Alc: 13.79 % - Seal: Screw Cap
A lovely selection of both NZ & Australian reds. Will definitely be getting more of these!
Helen - 23/03/2019
Delicious, good value and interesting range, some good for special occasions
Yeen - 20/03/2019
---
Welcome
to New Zealand's #1 online
wine community
Leave site