Elegant, silky with attractive tannins
The style of Lirac is totally unique, with a strong boquet of ripe red fruits & hints of leather
Decant to show these wines at its best & serve with hearty roast game stew or your favourite hearty winter dish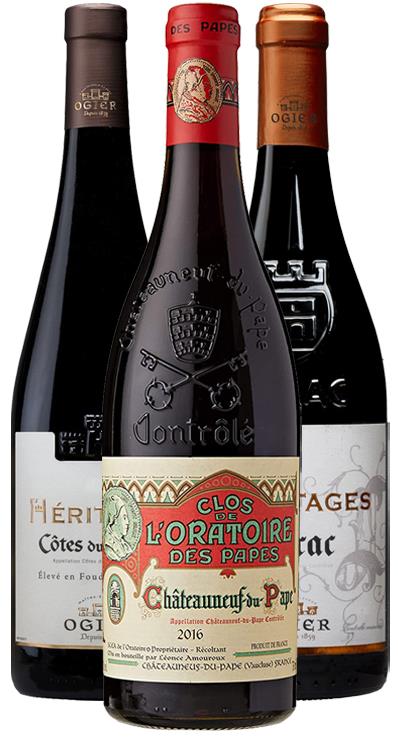 Ogier 'Heritages' Red Collection (France)
Ogier has been based in Chateauneuf-du-Pape for over 150 years and has sought to raise awareness of this remarkable appellation. The company has gained a special understanding of the region. The Héritages range is a product of Ogier's hundred-year-old expertise & the finest of the Côtes du Rhône terroirs.
This collection includes:
2 x Ogier Heritages Côtes du Rhône Rouge 2017 (France)
Deep ruby with purple highlights in the glass with an expressive, elegant, complex nose. The palate displays flavors of riped red berries, lightly spicy and hints of undergrowth. Full and very attractive palate with freshness and silky tannins.
This GSM blend is a poduct of Ogier's hundered year old expertise and finest Rhone terroirs. Granache, Syrah and Mourdvedre grapes were sourced from selected forty year old vines and blended carefully to produce this wines full bodied palate of structured fruit with hints of mild spices. These vineyards are situated on the Villafrancien terraces of St Marcel d'Ardèche, on the hills of Avignon and Roquemaure – Sand from the 'Aigues' valley – and layered stones on slopes from the 'Plan de Dieu'. In the winery the juice spent 6 months in oak barrels called 'foudres' (4 to 40 years old) and 'cuves tronconiques' (12 years old)
Seal: Cork - Alc: 14.5%
2 x Ogier Heritages Lirac 2015 (France)
Deep red cherry color in the glass with a bouquet of ripe red fruits with hints of leather and mild spices. Complex mineral characters show on the platae. The style of Lirac is totally unique with its full body & fresh aromas. It is very elegant, silky with attractive tannins with a long finish on vanilla notes.
Grapes for this blend of GSM & Cinsault was sourced from the red terraces of Lirac within the Rhone Valley where the soils have pebbles, loess and safres. This region was classified as a cru in 1947 and belongs to a special group of appellations of the Southern Rhone valley, which produces wines with great expression. In the winery the juice was fermented in croncrete vats.
Seal: Cork - Alc: 14.5%
2 x Ogier Heritages Gigondas 2015 (France)
Héritages Gigondas is a red wine from Ogier of the Héritages family and comes from the growing area of Gigondas to the same place in the Rhone Valley. The ruby red wine presents itself in the nose elegant and complex with aromas of fruit and kirsch. The first impression is rounded off by hints of undergrowth and menthol notes. Very round and full-bodied with great elegance and freshness on the palate. The fruity and long finish with a touch of vanilla makes you want to sip again. Already excellent, the wine has development potential for the next few years. Héritage's Gigondas is perfect as a companion to savory dishes but also as a solo treat.
Grape Varieties: 70% Grenache, 20% Syrah, 10% Mourvèdre
The Ogier's expertise has grown over 150 years, during which time it has brought back into use traditional forms of cask that had fallen in to disuse and introduced new ones. Thanks to its understanding of the complexity of northern and southern Rhône Valley terroirs, Ogier adapts its ageing methods to each individual wine, allowing the purity of its fruit and its intrinsic character to shine through.
Seal: Cork - Alc 15%
---
Welcome
to New Zealand's #1 online
wine community
Leave site