This mix captures the very essence of Marlborough, with vibrant and fresh aromatics
Crowded House's philosophy is simple - source outstanding fruit from exceptional vineyard sites, then steering the fruit in the right direction to best express the vibrant fruit flavours that Marlborough is renowned for during wine making
These wines are about fruit purity, equally enjoyable to drink by themselves amongst friends or paired with a variety of foods.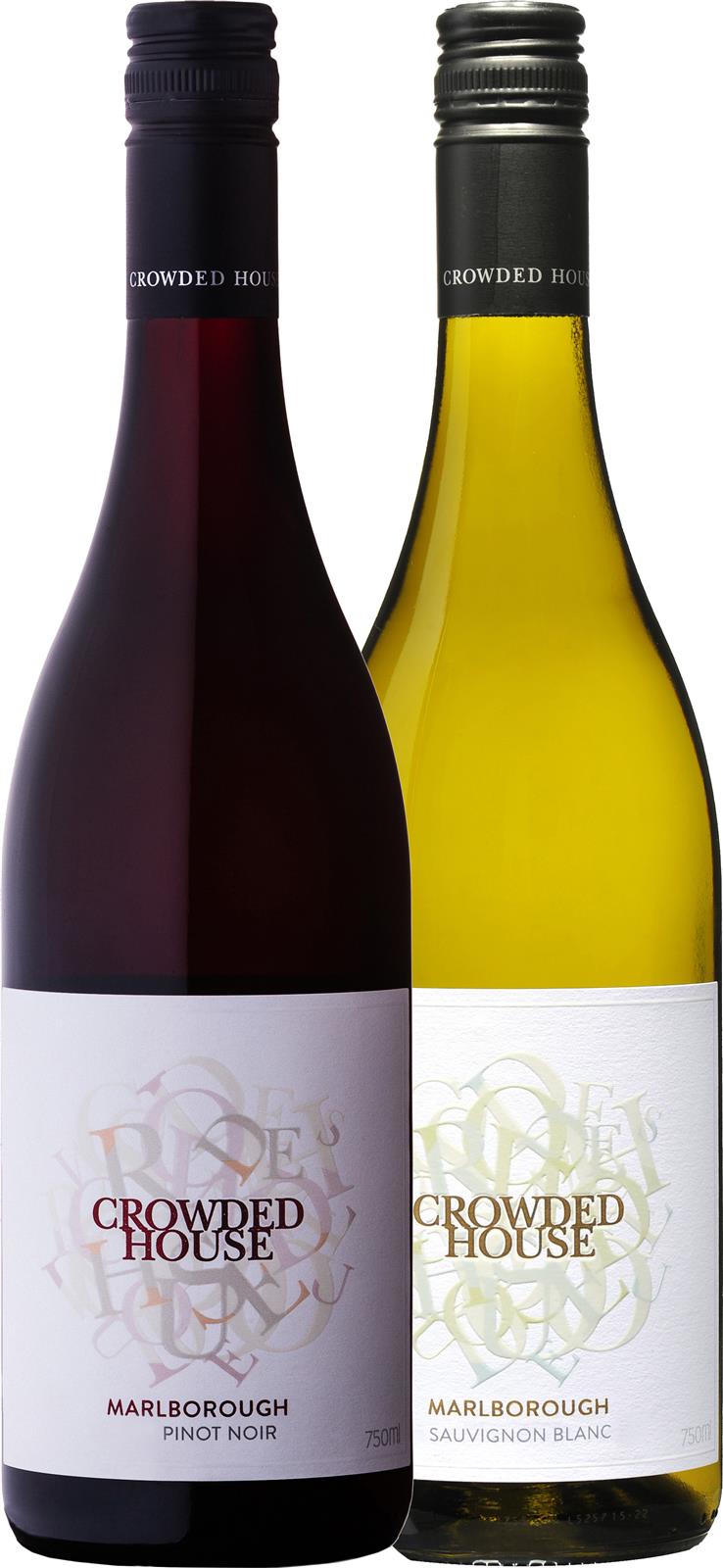 Crowded House's philosophy is simple - source outstanding fruit from exceptional vineyard sites. Believing the most critical decision in wine-making is when to pick. Once harvested, their role becomes simply steer the fruit in the right direction in order to best express the vibrant fruit flavours that Marlborough is renowned for, while respecting the subtle differences of each site.
This mixed case allows you to best enjoy this philosophy...
3x Crowded House Marlborough Sauvignon Blanc 2017
Quintessentially Marlborough in profile with bright aromas of guava, citrus fruits, black currant and sweet crushed herbs. The palate is elegantly proportioned with lovely soft acidity carrying the fruit flavours to a long, pure finish.
Food Pairing: Best enjoyed with good friends with fresh aromatic seafood and Summer salads.
Alc 12.8%
3x Crowded House Marlborough Pinot Noir 2016
Fruit for the wine was sourced from 5 different vineyards, taking in the Marlborough sub regions of the Southern Valleys, Central Wairau and Ward. The Southern Valleys offers richness and savouriness while the Central Wairau and Ward give a strong fruit presence to the wine. Whilst in the winery, winemaking was very hands off, with fruit transferred to open top fermenters after destemming and under going natural fermentation. After natural malolactic fermention, the various parcels were matured with French oak.
Food Pairing: Best enjoyed with good friends and piping hot pizza fresh from the oven.
Alc 13.10%
3 x Le Village du Sud Syrah 2017
3 x Les Deux Pins Merlot 2017
3 x Belles Vignes Collection GSM 2017
3 x Les Vignerons Carignan Syrah 2017

1 x Framingham Marlborough Sauvignon Blanc 2017
1 x Greenhough Nelson Sauvignon Blanc 2017
1 x Summerhouse Marlborough Pinot Gris 2018
1 x Wild Rock Marlborough Pinot Gris 2016
1 x Kumeu Village Chardonnay 2016
1 x Rapaura Springs Reserve Marlborough Chardonnay 2016

3 x Summerhouse Marlborough Sauvignon Blanc 2018
3 x Summerhouse Marlborough Pinot Gris 2018

2 x River Delta Marlborough Chardonnay 2016
2 x River Delta Marlborough Pinot Noir 2016
2 x River Delta Marlborough Sauvignon Blanc 2016

2 x Babich Hawkes Bay Syrah 2016
2 x Babich Hawkes Bay Merlot Cabernet 2016
2 x Babich Marlborough Pinot Noir 2017

1 x Sacha Lichine Le Poussin Rosé 2017 (France)
1 x Sacha Lichine Le Coq Rouge 2015 (France)
1 x Sacha Lichine La Pule Blanche 2015 (France)

1 x Summerhouse Marlborough Sauvignon Blanc 2018
1 x Summerhouse Marlborough Limited Release Chardonnay 2016
1 x Summerhouse Marlborough Pinot Gris 2018
1 x Summerhouse Marlborough Pinot Noir Rosé 2018
1 x Summerhouse Central Otago Pinot Noir 2017
1 x Summerhouse Hawkes Bay Merlot 2016

2 x Santa Ana Reserve Torrontés 2014 (Argentina)
1 x La Mascota Malbec 2017 (Argentina)
1 x La Mascota Cabernet Sauvignon 2015 (Argentina)
1 x Santa Ana Reserve Malbec 2017 (Argentina)
1 x Santa Ana Eco Cabernet Sauvignon 2017 (Argentina)

2 x Take It To The Grave Shiraz 2017 (Australia)
1 x Little Giant Barossa Shiraz 2017 (Australia)
1 x Burns and Fuller Langhorne Creek Shiraz 2017 (Australia)
1 x Off The Books New South Wales Touriga 2016 (Australia)
1 x Speak No Evil Organic Shiraz 2018 (Australia)

3 x Radio Boca Rosé 2017 (Spain)
3 x Radio Boca Verdejo 2017 (Spain)

2 x Cave De Roquebrun Terres d'Orb 2017 (France)
2 x Fortant de France Merlot 'Terroir Littoral' 2017 (France)
2 x Les Vignerons Carignan Syrah 2016 (France)

4 x Natural Wine Co Gisborne Organic Chardonnay 2016
4 x Natural Wine Co Gisborne Organic Pinot Gris 2017
4 x Natural Wine Co Gisborne Organic Pinot Rosé 2018

---
Welcome
to New Zealand's #1 online
wine community
Leave site