A serious collection of rich, flavoursome reds that are satisfyingly complex
Man O' War's stylish Black Label red wines are a must have for lovers of french style reds
A delicious collection alongside char-grilled eye fillet, potato thyme gratin, café de Paris butter, port wine jus or aged hard cheeses like gouda
The Man O' War Black Label Red Collection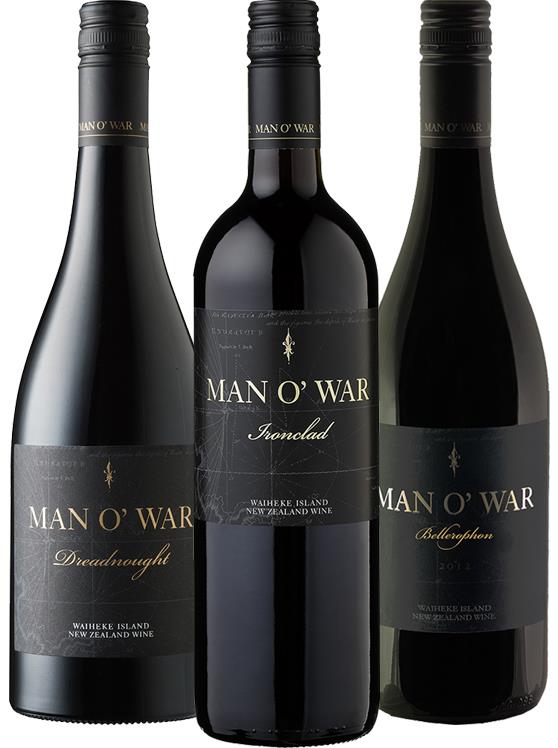 The Man O' War Black Label Red Collection
We've put together an impressive collection of Man O' War's stylish Black Label red wines, which are a must have for lovers of flavoursome, french style reds.
The Man O' War story begins with a special piece of land rich in history. Today, Man O' War consists of 150 acres of vines planted in 76 individual hillside blocks, each with a distinct soil profile and micro climate.
Collection includes:
2 x Man O' War Waiheke Island Ironclad 2016
Lifted aromas of fresh blueberry, crushed stone, brown spice and clove lead into a rich and succulent palate framed with a core of fine tannin and a long, lingering finish. 2016 Ironclad is a classic Cabernet Franc and Merlot dominant blend, totally appealing in its youth but developing more savoury notes with time and always rewarding careful cellaring.
Alc: 14%
2 x Man O' War Dreadnought Syrah 2017
2017 Dreadnought Syrah is very classical in style, lifted red fruits with a dark edge of graphite and pepper along with savoury stem derived characters make for an intense and interesting aroma profile. The palate is very linear but vibrant carrying good weight and concentration but also a lively streak from the stem inclusion that makes the finish seem fresh and lithe. A great expression of Syrah and compelling summary of the vintage.
Food Pairing: Pair this Syrah with a braised or barbecued chicken dish or aged hard cheeses like Gouda.
Alc: 13.56%
2 x Man O' War Bellerophon Waiheke Island Syrah 2016
The 2016 Bellerophon has a complex bouquet of spice, red berries with earthy peaty notes, hints of apricot from the Viognier and a floral lift from the stems. The wine has a rich texture which is perfectly balanced with the acidity of the Syrah variety and the blend of fruit and oak tannin as well as the complex stem tannins. The 2016 Bellerophon will age incredibly well developing more savoury aromas and flavour as well as increased integration and development of the tannin profile.
The 2016 Bellerophon is a blend of several batches of wine and is a continuation of investigations into using both co fermentation (with Viognier) and the use of stem inclusion in the Syrah ferments. Two batches were fermented with 10% Viognier added as whole bunch clusters, similarly had a batch of 100% whole cluster Syrah and the remaining batches were destemmed. The resulting wine is 3% Viognier and 30 % whole cluster. The wines were all fermented with wild yeast and pumped over twice daily, pressed off and aged in barrel with spontaneous malolactic fermentation. Aged for 18 months in barrel before blending and bottling.
Alc: 14%
Vintages may change.
2 x Black Estate Damsteep Waipara Riesling 2019
2 x Black Estate Home Waipara Pinot Noir 2017
2 x Black Estate Damsteep Waipara Pinot Noir 2017

2 x Craggy Range Single Vineyard Gimblett Gravels Syrah 2018
2 x Craggy Range Single Vineyard Gimblett Gravels Chardonnay 2019
2 x Craggy Range Te Muna Road Single Vineyard Martinborough Pinot Noir 2017

1 x W5 Marlborough Méthode Traditionnelle 2014
1 x W5 Marlborough Pinot Noir 2018

---
Welcome
to New Zealand's #1 online
wine community
Leave site