Presents a fresh bouquet
Sweet red fruit & cherry flavours with a crisp finnish
A great summer drop, fabulous for all your alfresco dining occasions!
Spy Valley Marlborough Pinot Noir Rosé 2018 Magnum 1.5L

Bottle Size: Magnum 1.5L!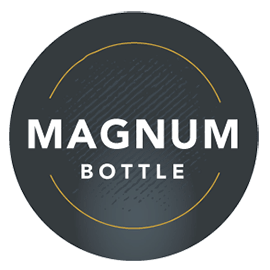 Spy Valley Marlborough Pinot Noir Rosé 2018 Magnum 1.5L
Description
Pretty pale apricot pink in the glass. This Rosé presents a fresh bouquet of citrus flower, strawberry and rock-melon. Sweet red fruit and cherry flavours with medium bodied structure, with a crisp and dry finnish.
Winemakers – Paul Bourgeois and Richelle Collier 100% handpicked, with 85% whole bunch pressed, and 15% being a "Saignee" of juice immediately drained from handpicked fruit  destemmed to vats. A small portion was fermented on solids and in barrels with the remainder undergoing stainless steel tank fermentation.
Ripe flavours from a warm vintage, and a subtly firm structure give the potential for moderate cellaring. The initial sweet fruit character will diminish after several years, but expect pleasant drinking to at least 2022.
Marlborough is a land of abundance. Abundance in New Zealand wine making, in a region celebrated for its increasing depth of varieties. In beauty and sunshine, an arresting, picturesque and geographically diverse setting. And in lifestyle choices, making this one strikingly unique place to be. The heart of New Zealand's wine industry, this is Spy Valleys home.
When you work land as exceptional as this, you protect it. Here at Spy Valley, we know that the environment is one of the many secrets to our success. It has sustained generations, and it is our job to nurture it for many more. Since the begining, Spy Valley Wines has been accredited under the New Zealand Sustainable Winegrowing scheme. This initiative promotes economically and environmentally sustainable vineyard management. For them, this includes their winery, all of the company vineyards and grower vineyards, and they are deeply satisfied with the way this environment benefits from our sustainability focus.
---
Welcome
to New Zealand's #1 online
wine community
Leave site