Summer is nearly here & with it the best shades of pink!
This mixed case includes a beautiful international selection, including Spain & France as well as right here in NZ
Pair these wines with good friends and make that summer feeling last in spite of the colder weather!
The Perfect Spring Fling Rosé Collection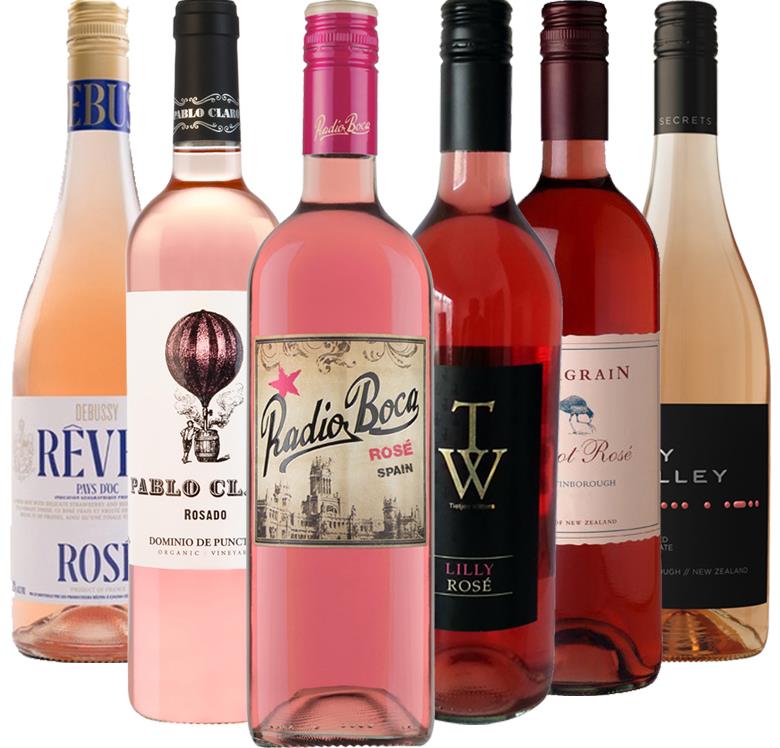 The Perfect Spring Fling Rosé Collection
With the end of daylight savings signalling time to say good bye to summer, for most this will involve rugging up next the fire with a glass of red, but fear not for those of you who can't beat a nice splash of rosé in your glass we still have just the collection!
So don't heistate to indulge yourself with these fabulous shades of pinks and join thounsands of Kiwis who have made drinking pink their mantra with our new 'Goodbye To Summer' collection which includes:
1 x Radio Boca Rosé 2017 (Spain)
Very light salmon pink color. Fresh expressive red fruit such as juicy, ripe strawberries and blossoms. On the palate it is soft, silky and fruit driven with a refreshing acidity and an intense fruity finish.
Alc: 13% - Seal: Screw Cap
1 x Margrain Martinborough Pinot Rosé 2017
The somewhat demure hue of farm raised salmon reflects both the cooler aspect of the 2017 summer, as well a the effects of the reduced time the juice spent on skins, admittedly a kneejerk reaction to last year's dalliance with the blood of the bull! Beguiling aromas of fallen rose petal greet the nose followed by raspberry sorbet and stewed tamarillo, while a hint of Carmelo adds a wiggle to the walk. There is an upwelling of sweet honey-roasted almonds, rich pan forte then a little zesty lime and the crispness of snapped biscotti. On the pallet the wine is a pure indulgence. Creamy strawberry gelato and sticky lemon meringue pie slide languidly across the tongue while the tantalising hint of honeyed sweetness ambushes the tastebuds to bring them totally under its spell. It screams of lazy summer days beside the sea and is at once your guide, friend and lover. It oozes chewy caramel flavours and is gentle, soft and round with velvet smooth phenolics yet will surprise in the finish as the thin wedge of acidity delivers a blueberry tang.
Alc: 12.6% - Seal: Screw Cap
1 x Spy Valley Marlborough Pinot Noir Rosé 2018
Pretty pale apricot pink in the glass. This Rosé presents a fresh bouquet of citrus flower, strawberry and rock-melon. Sweet red fruit and cherry flavours with medium bodied structure, with a crisp and dry finnish.
Winemakers – Paul Bourgeois and Richelle Collier 100% handpicked, with 85% whole bunch pressed, and 15% being a "Saignee" of juice immediately drained from handpicked fruit destemmed to vats. A small portion was fermented on solids and in barrels with the remainder undergoing stainless steel tank fermentation.
Alc: 13% - Seal: Screw Cap
1 x Pablo Claro Organic Rosado 2016 (Spain)
Made 100% from the native Valencian grape variety Bobal, known for producing soft, fruity, fresh-acid wines, perfect for the production of Rosado. Harvested at night to preserve freshness and cold-macerated before fermentation to enhance natural colour and fruit intensity. Alluring salmon-pink in hue with fresh raspberry and cherry aromas. A delicious dry rose, with abundant berry flavours and a soft, clean finish. A perfect match for seafood, white meats, summer salads, cold-cuts and pasta dishes. Outstanding value.
Situated in the town of Las Pedroñeras in the north of La Mancha, Spain's largest wine region, halfway between Valencia and Madrid. Founded and owned by the Fernandez family the estate currently comprises over 200 hectares of vineyards. All wines are estate grown by the modern means of a sustainable agriculture and winemaking and are fully certified organic. The modern winery is situated next to the vineyard to minimalize handling and preserve freshness and quality.
Alc 12% - Seal: Cork
1 x TW Wines Lilly Gisborne Rosé 2018
Enchantingly pink, Lilly is perfumed with Summer happiness. 2018 Lilly Rosé exhibits aromas of wild flowers and strawberries. The palate offers flavours of pink cherry, watermelon and strawberry – the perfect way to celebrate the arrival of summer. Enjoy this wine in the sun with friends simply as it is or with your favourite antipasti.
Selectively harvested, the Merlot for this Rosé was gently crushed and destemmed before holding in the press for 12 hours prior to pressing. This allowed the perfect balance of flavour and colour extraction before the juice was separated from the skins to be slightly clarified. The fermentation was conducted with aromatic yeast and carefully controlled with temperature to ensure maximum retention of delicate flavours and aromas. Prior to bottling this wine was gently fined with traditional proteins to prefect the palate experience.
Alc: 12.25% - Seal: Screw Cap
1 x Debussy Reverie Rosé 2017 (France)
Salmon pink in the glass this Rosé offer elegant red fruit aromas of raspberry. Well balanced on the palate with a concentrated impression and a fruity finish.
The Reverie wines come from a land full of history. They are produced in the Southern French Languedoc-Roussillon, over four departments along the Mediterranean coast. Here, the northern mountains of the Pyrenees and the Cevennes embrace the vineyards of the Pays d'Oc like an amphitheatre. Thanks to a heritage of over 2,600 years of winemaking traditions and a patchwork of climates, reliefs and soils, this region is home to a diversity of extraordinary wines.
Seal: Screw cap
---
Welcome
to New Zealand's #1 online
wine community
Leave site