A selection of approachable, diverse, innovative wines from the South of France...
Combining the best of French winemaking 'know-how' with modern winemaking technology
A fantastic selection of food wines, we encourage you to experiment and pair with your favourite French dishes!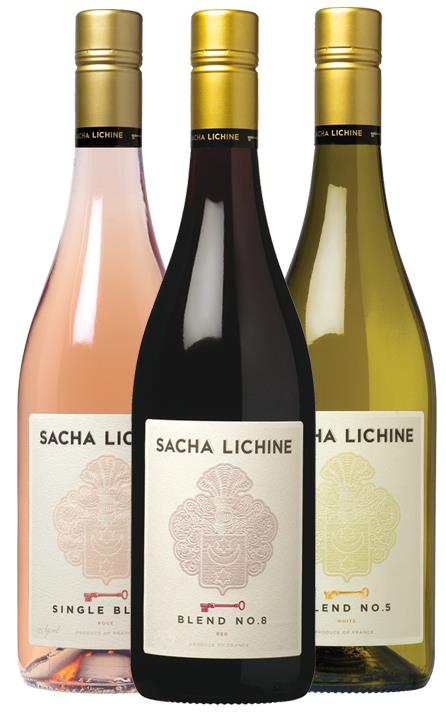 Sacha Lichine 'Blends' 3 Bottle Collection (France)
Born in Bordeaux and educated in the U.S, Sacha Lichine began working at his family's property, Chateau Prieuré Lichine, during the summers of his youth. This range is product of his recognition of a need for diverse and innovative wines, whilst offering approachablity to wines from the South of France. Not only does the team behind this wine range include Sacha but also Patrick Leon as consulting oenecologist, whose experience is unparalleled in making the great wines of the world. Together they have been making big waves in the market with their attractive collection of fine wines and in this case we offer the opportunity to sample all 3 varietals from Sacha's 'Blends' range ....
1 x Sacha Lichine Single Blend Rosé 2017 (France)
This Grenache & Cinsault single-blend has a remarkable bright blush colour. An elegant nose flaunting floral notes, summer berries and citrus. It is full, juicy and has a fresh finish. Crisp, fruity and refreshing, this is the perfect everyday, quality Rosé. Lots of fruits, soft tannins. Fresh, bold, alive and smooth.
Sourced from a great selection of grapes that were grown in the South of France, made with a traditional wine making approach and offering a bold and luscious new world style. The pressing is direct and made carefully while aged with bâtonnage.
Seal: Screw Cap - Alc: 12%
1 x Sacha Lichine Blend No. 8 Red 2015 (France)
Blend No. 8 has a deep colour which sets the tone for this authentic wine. Fruity scents with hints of spice. Complex, elegant and silky notes of red fruits, strawberries and cherries. Round, crunchy, good length and great freshness.
A blend of Grenache & Syrah made using traditional wine making approach, offering a bold and luscious new world style.
Seal: Screw Cap - Alc: 12.5%
1 x Sacha Lichine Blend No. 5 White 2015 (France)
Beautifully pale lemon yellow with an emerald glint in the glass with a refreshing and uplifting bouquet. If spring-time had a smell, this would be it. Tropical hints with green grass and citrus. Elegant whilst homogeneous yet complex. It shows restraint and the palate is fresh, with its full flavour enhancing its unique personality.
Tradition and innovation are one in this delightful blend of Sauvignon Blanc, Vermentino, Chardonnay, Semillon.
Seal: Screw Cap - Alc: 12%
---
Welcome
to New Zealand's #1 online
wine community
Leave site