A selection of approachable, diverse, innovative Rose
Combining the best of French winemaking 'know-how' with modern winemaking technology to offer fantastic affordablitly
Pair these delicious simply as an aperitif or alongside a fresh catch of fish served with a crisp green salad
Sacha Lichine Rosé Collection (France)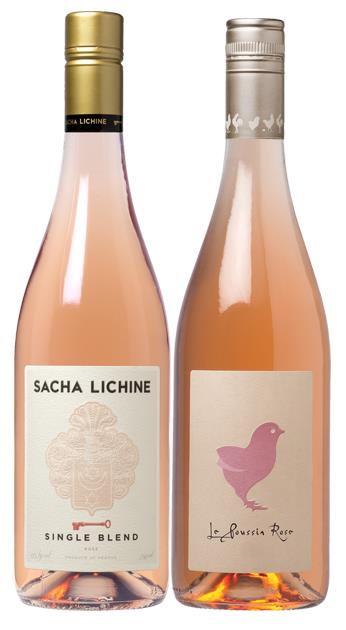 Sacha Lichine Rosé Collection (France)
Description
From the producer of the world renowed Whispering Angel Rose we bring you a Black Market exclsuive Rose collection from Sacha Lichine...
Born in Bordeaux and educated in the U.S, Sacha Lichine began working at his family's property, Chateau Prieuré Lichine, during the summers of his youth. This range is product of his recognition of a need for diverse and innovative wines, whilst offering affordable, approachablity to Rose from the South of France.
This collection includes:
3 x Sacha Lichine Le Poussin Rosé 2018 (France)
In Sacha's trademark rose style -originally developed under his Whispering Angels brand- this Grenache & Cinsault blend is pale pink in the glass, boasting beautiful floral scents. Whilst the palate displays lots of fruits, soft tannins. The Le Poussin Rosé is fresh, bold, alive and smooth.
Selected parcels from the Hérault region, located in the South of France (between Pezenas and Béziers), were sourced for this wine. Combining the best of French winemaking 'know-how' with modern winemaking technology, low temperature pre-fermentation and gentle extraction were employed in the winery.
Food Pairing: Simply as an aperitif or let yourself be carried away by Edith Piaf and pair alongside a fresh tuna steak served with black olives for a truly French experience & La vie en rose!
Seal: Screw Cap - Alc: 12%
3 x Sacha Lichine Single Blend Rosé 2017 (France)
This Grenache & Cinsault single-blend has a remarkable bright blush colour. An elegant nose flaunting floral notes, summer berries and citrus. It is full, juicy and has a fresh finish. Crisp, fruity and refreshing, this is the perfect everyday, quality Rosé. Lots of fruits, soft tannins. Fresh, bold, alive and smooth.
Sourced from a great selection of grapes that were grown in the South of France, made with a traditional wine making approach and offering a bold and luscious new world style. The pressing is direct and made carefully while aged with bâtonnage.
Food Pairing: Pair the fruity flavours in this wine with a truly fresh palate cleansing balsamic, watermelon, feta salad this summer season.
Seal: Screw Cap - Alc: 12%
---
Welcome
to New Zealand's #1 online
wine community
Leave site