This Radio Boca collection are wines you can GET DOWN with!
When you try Radio Boca you are going to be turning up the volume and telling people all about it.
Wine speaks a universal language, there are no boundaries so what's stopping you with these versatile, food friendly wines. Go crazy and match them with your favourite Mediterranean fare this winter.
The Radio Boca Red Collection (Spain)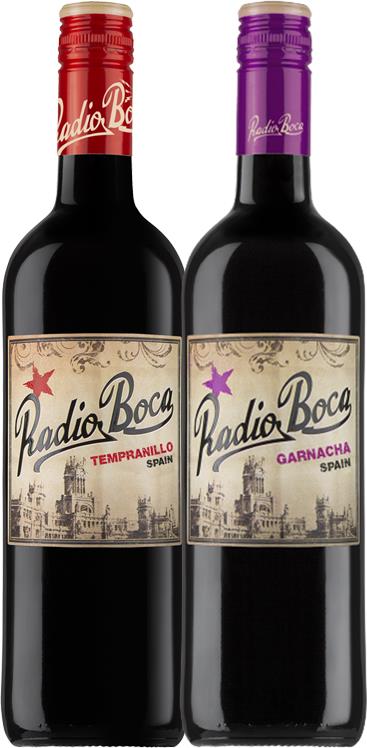 The Radio Boca Red Collection (Spain)
Your voice is your personal radio, and when you try Radio Boca you are going to be turning up your volume and telling people all about it!
The fruit for these wines are loud and dominating, one could even say the personality of these Spanish wines are similar to Spanish people themselves- expressive and always ready for a good time. Be it their over achieving Tempranillo or modern stylish Granacha, these wines are made to get people excited and talking about wine and turn up their radios!
So tune in and keep it locked to the latest hit of delicious Spanish reds, because like music wine speaks a universal language with are no boundaries or limitations....
3 x Radio Boca Tempranillo 2016 (Spain)
Tune yourself into the latest broadcast of this delicious Tempranillo, the flagship grape variety of Spain...
A translucent intense orange-red in the glass this classic Spanish drop is a mouth full of big fruit with juicy ripe strawberry, succulent dark cherries and an exciting hint of cassis that will have you talking non stop. Aromas are reminiscent of red cherries, strawberries and mature plums with hints of sweet spice such as cinnamon and vanilla. The palate is medium dry, medium bodied with a pleasant balance between acidity and soft tannins.
The grapes were handpicked from vineyards situated in Tierra de Castilla at optimum stage of ripeness during the month of September. Whilst in the winery the wine was vinified with a cold maceration over 48 hours before recieving a temparature controlled fermentation in stailess steel tanks. A percentage of the wine was aged in French oak barrels before blending back into the final blend, smoothing the palate and giving it the classic Spainish richness you'd expect. Though this use of oak is very discrete as Radio Boca winemakers allow for the Tempranillo to speak for its self.
Seal: Screw Cap - Alc: 13.00 %
3 x Radio Boca Granacha 2016 (Spain)
Grancha is of the most appreciated and demanded varietals among consumers and once you try this deliciously fruity drop from Valencia we're sure you'll uderstand why! So we encourage you to tune in and keep it locked to this latest hit red from Spain becuase Garnacha (also called Grenache) is the kind of modern style Spanish red that'll send you gaga if you like your reds smooth and soft, rich and fruity.
With very little aging it's totally booming with juicy, succulent strawberry, cherry and berry flavours. Similar to the Tempranillo in the range, but with the juicy-factor cranked up a notch!
Dangerously drinkable, extremely delicious and amazing value for money – one sip and you'll see why Radio Boca's bound to be a big hit! A versatile, food friendly style that'll go with most red meat, pizza and pasta dishes or go crazy and match it with a true local Valencian dish – the Paella!
Seal: Screw Cap - Alc: 13.5 %
3 x Le Village du Sud Syrah 2017
3 x Les Deux Pins Merlot 2017
3 x Belles Vignes Collection GSM 2017
3 x Les Vignerons Carignan Syrah 2017

3x Crowded House Marlborough Sauvignon Blanc 2017
3x Crowded House Marlborough Pinot Noir 2016

1 x Framingham Marlborough Sauvignon Blanc 2017
1 x Greenhough Nelson Sauvignon Blanc 2017
1 x Summerhouse Marlborough Pinot Gris 2018
1 x Wild Rock Marlborough Pinot Gris 2016
1 x Kumeu Village Chardonnay 2016
1 x Rapaura Springs Reserve Marlborough Chardonnay 2016

3 x Summerhouse Marlborough Sauvignon Blanc 2018
3 x Summerhouse Marlborough Pinot Gris 2018

2 x River Delta Marlborough Chardonnay 2016
2 x River Delta Marlborough Pinot Noir 2016
2 x River Delta Marlborough Sauvignon Blanc 2016

2 x Babich Hawkes Bay Syrah 2016
2 x Babich Hawkes Bay Merlot Cabernet 2016
2 x Babich Marlborough Pinot Noir 2017

1 x Sacha Lichine Le Poussin Rosé 2017 (France)
1 x Sacha Lichine Le Coq Rouge 2015 (France)
1 x Sacha Lichine La Pule Blanche 2015 (France)

1 x Summerhouse Marlborough Sauvignon Blanc 2018
1 x Summerhouse Marlborough Limited Release Chardonnay 2016
1 x Summerhouse Marlborough Pinot Gris 2018
1 x Summerhouse Marlborough Pinot Noir Rosé 2018
1 x Summerhouse Central Otago Pinot Noir 2017
1 x Summerhouse Hawkes Bay Merlot 2016

2 x Santa Ana Reserve Torrontés 2014 (Argentina)
1 x La Mascota Malbec 2017 (Argentina)
1 x La Mascota Cabernet Sauvignon 2015 (Argentina)
1 x Santa Ana Reserve Malbec 2017 (Argentina)
1 x Santa Ana Eco Cabernet Sauvignon 2017 (Argentina)

2 x Take It To The Grave Shiraz 2017 (Australia)
1 x Little Giant Barossa Shiraz 2017 (Australia)
1 x Burns and Fuller Langhorne Creek Shiraz 2017 (Australia)
1 x Off The Books New South Wales Touriga 2016 (Australia)
1 x Speak No Evil Organic Shiraz 2018 (Australia)

3 x Radio Boca Rosé 2017 (Spain)
3 x Radio Boca Verdejo 2017 (Spain)

2 x Cave De Roquebrun Terres d'Orb 2017 (France)
2 x Fortant de France Merlot 'Terroir Littoral' 2017 (France)
2 x Les Vignerons Carignan Syrah 2016 (France)

---
Welcome
to New Zealand's #1 online
wine community
Leave site